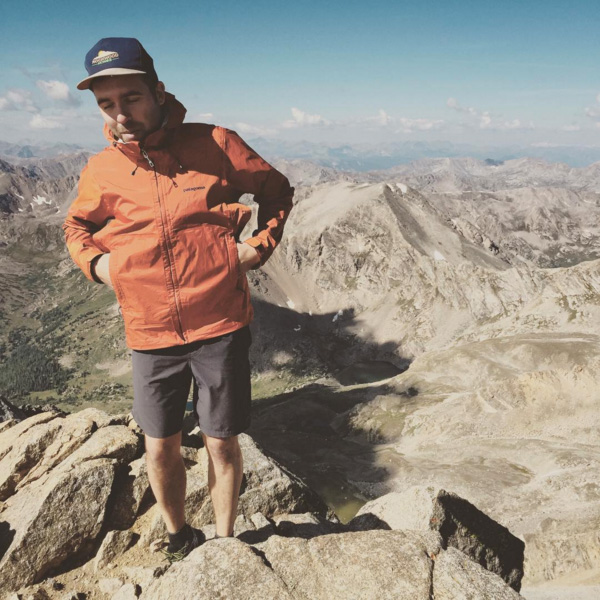 Went for a hike.
Hello friends, my name is Tyler and I plan on thru-hiking the Pacific Crest Trail in 2016.
On this page, I'll aim to answer some of the most frequently asked questions I get after spilling the PCT beans. But first, let's take a look at the trail itself…
The PCT: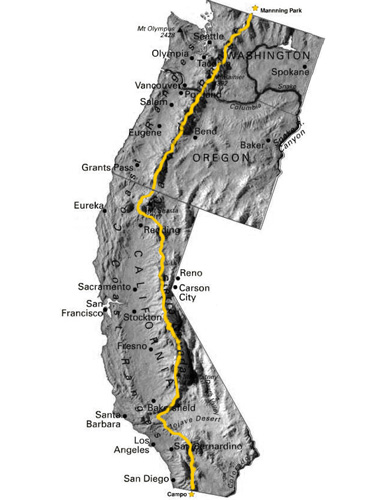 The Pacific Crest Trail (PCT) is a long-distance hiking and equestrian trail that runs the entire length of the western United States. Sound pretty awesome, right? Here are a few quick facts to put things into perspective:
2,650 miles in length (4,265 km)
Traverses through California, Oregon, and Washington
That's 1,689 miles of trail in California
455 miles of trail in Oregon
514 miles of trail in Washington
Trails starts with nearly 700 miles of desert
Southern terminus located near the US/Mexico Border at Campo, CA
Northern terminus located near the US/Canada Border at Manning Park
Passes through 27 nation forest and 7 national parks
Highest point located at Forester Pass, 13,153 ft (4,009m)
Lowest point located at Cascade Locks, 140ft (43m)
Majority of thru-hikers head northbound 
Significantly less thru-hiking attempts per year than the Appalachian Trail (the PCT's east-coast counterpart)
FAQ:
Up until now, I haven't told many people of my intentions to thru-hike the PCT. (This is nothing personal, but more of just who I am. Promise.) The people I have told usually follow up with a series of questions. I don't mind this. I love telling people about the trail, as I've studied the PCT quite a bit over the past year. If anything, it's a chance for me to dwell on things I may not have thought of. A typical conversation might go like this:
The Pacific Crest Trail?
Yes. It's a scenic trail that runs from the boarder of Mexico all the way to Canada.
Woah. How long is it?
The trail from start to finish is about 2,650 miles long.
So when are you leaving?
The window for which hikers can start the trail is pretty narrow, with most north bound hikers starting in late April / early May. This is because hikers need to reach The Sierras after the snow melts, but they also need to make it through the Cascades before the heavy snow starts.
Do you have an official start date?
Yes. April 22nd, I start hiking north.
How long does it take to hike? 
Hiking the entire PCT usually takes all of the snow-free season. That's about 5 months.
When will you be back?
Hikers typically finish the trail sometime in the month of September. I plan to do the same.
Arn't you afraid of bears/lions/snakes/boogymen? 
Yes. And no. I'd be lying if I said I wasn't looking for something wild.
What are you most afraid of?
Water (or lack thereof) in the desert. Snow in the high Sierras.
Do you think you're ready?
I honestly think I'm as ready as I can be. Halfway Anywhere (an awesome blog I visit often) describes being "ready" for the PCT in the following way: Imagine that in three months you are going to wake up as a member of the opposite sex. No matter how much you try to prepare, how much money you spend on new clothing, or how many people you talk to, you will still have no idea what to expect and won't know for sure until it happens. I'll just leave it at that.
Why are you doing this? 
To quote George Mal­lory when asked why he wanted to climb Mt. Everest: "Because it's there…"
Nah really, why are you doing this?
Because I love to hike. I love to plan. I love to learn. I love the thought of setting out to achieve something bigger than myself. Because I love my mom. Because I love my dad and my brother. Because I want to be able to say I did something. Because I want to give back. The truth is, the answer to this question will change daily. And that's what I'm in it for.
We should meet up!
I'm down to try! I'll be carrying a SPOT gps devise on me and will be checking in nightly. You can follow my progress on the follow page. I'll have internet (sometimes), so feel free to shoot me an email at tylerwithat@gmail.com
Learn More:
You can learn more about the PCT through the Pacific Crest Trail Association.
Also check out Halfway Anywhere. An awesome (and hilarious) blog about hiking the PCT and beyond.
Finally, be sure to check out my support page if you'd like to get involved.