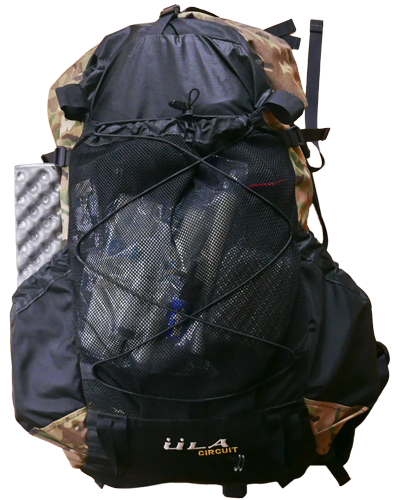 Backpackers love to geek out over their gear. And for good reason. With such a finite amount of space, it's important to scrutinize every item in your pack. And for me, backpacking is a true test of reduction. It's one of the things that turned me on to backpacking in the first place—the thought of your entire life reduced down to the simple things you carry on your back. Pretty humbling, really.
Below is my visual and annotated log of everything that contributes to my base weight—that is, everything but food, water, and fuel. Base weight is what we talk about when we talk about gear, and when it comes to this holy number, there are essentially 4 categories: Traditional (20+lbs), Lightweight (under 20lbs), Ultra Lightweight (under 10lbs), and Sub-Ultra Lightweight (under 5lbs).
Now I've collected some light gear, but I try not to get too crazy with it. My base weight is right around 16lbs. Not bad for some of the "luxury" items I've afforded myself. But these things, to me, are worth it.
Alright. Enough talk. More gear.
The Big 3
Pack System
While searching for a lightweight pack, I came across ULA Equipment and their Circut pack. This pup-pup is light, large enough to carry a bear canister, and has been a thru-hiking staple amongst many PCT hikers. The pack can also be got in camo. Which can be good or bad in terms of locating things that aren't even there… ULA is a family owned business manufacturing everything right here in the good ol' US of A. They get my vote.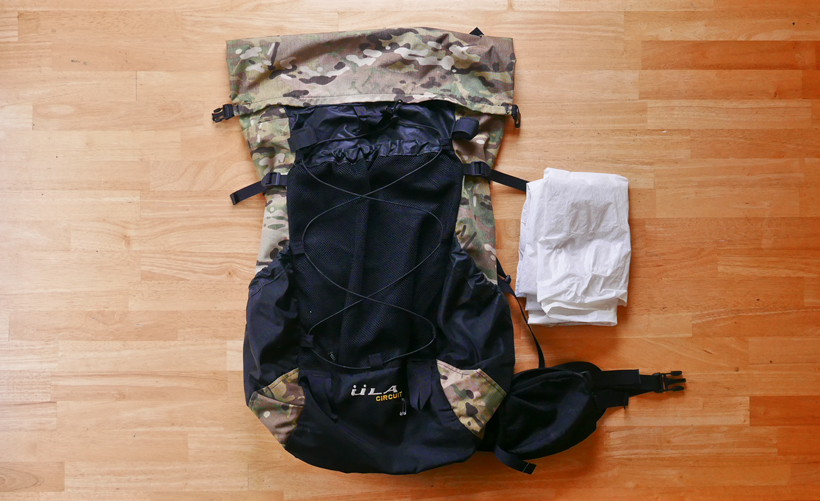 Item
Specs
oz
lbs
Backpack:
ULA Ciruit
• Torso Size – M
• HipBelt Size – M
• Shoulder Stap – J-Curive
• Multicam Camo
39.6
2.5
Pack Liner:
Trash Compactor Bag
2.2
0.1
Total:
41.8oz
2.6lbs
Shelter System
When I stumbled onto Henry Shires' Tarptent website, I knew I had found something good. A small company manufacturing lightweight shelters in the United States with an outstanding reputation that reaches far across internet land. I went back and forth between the Notch and the Moment DW but have decided the extra support and non-reliance on trekking poles makes the Moment DW the shelter for me. The optional crossing pole turns this bad boy into a very nice 4-season tent as well. I'm for it.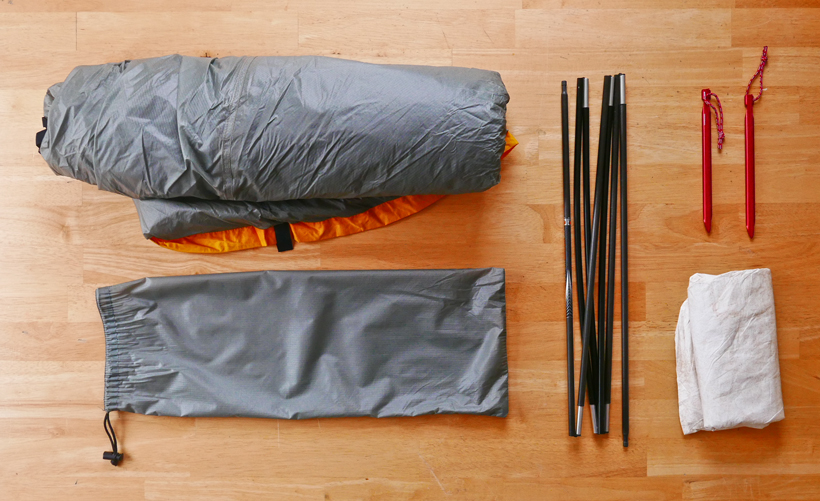 Item
Specs
oz
lbs
Shelter:
Tarptent – Moment DW
• Mesh Inner
• Carbon Arch Pole
• 2X MSR Ground Hog Stakes
• Seam Sealed
• Stuff Sack
37.3
2.3
Ground Cloth:
Custum Tyvek
3.0
0.2
Total:
40.4oz
2.5lbs
Sleep System
The Therm-a-Rest NeoAir Xlite is a damn fine sleeping pad. Very comfortable, albeit a little loud. I've just recently picked up the Cocoon Silk Liner in hopes of saving my sleeping quilt from my dirty self. This should prolong cleanings and keep the loft of the down working its best. The pillow is a major point of contention amongst backpackers and classically dubbed a "luxury" item. But if we compare the sleep I get with the 1.6oz ExPed pillow vs. a rolled up dirty shirt… yeah, i'll take the pillow.
Outdoor Kitchen
Cook System
I'm pretty proud of the cook kit I've put together. At the core of it all is the Caldera Cone System which essentially combines a wind screen and pot stand into one efficient design. As for fuel—denatured alcohol is a lot easier to come by along the PCT and a heck'ovalot cheaper than fuel canisters. The Pepsi can stove is pretty sweet too.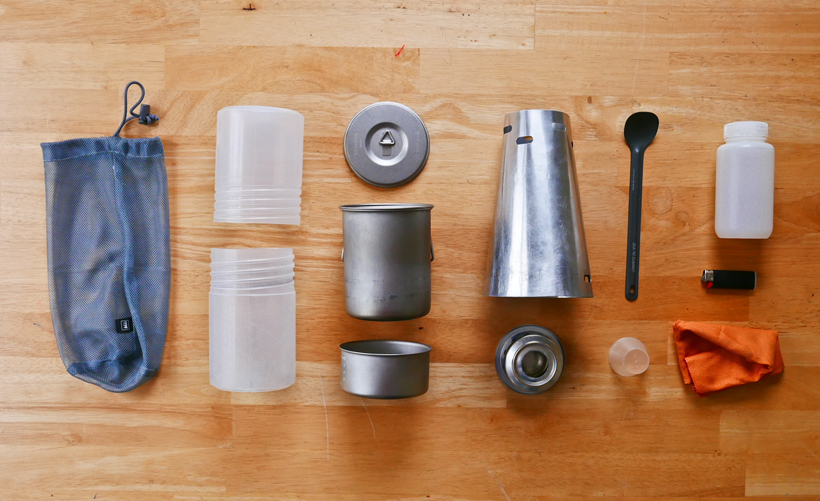 Item
Specs
oz
lbs
Cook Pot:
Snow Peak – Titanium Mini Solo
• Titanium Lid, pot, & cup
5.0
0.3
Stove:
Caldera Cone System
• Wind screen / pot stand combo design
• Soda Can alcohol stove
• Caddy
6.1
0.4
Fuel Canister:
Nalgene Polyethylene Bottle
• 8 fl oz
1.3
0.1
Utensil:
Sea to Summit Long Spoon
0.4
0.03
Kitchen Towel:
PackTowl
• Cut to size
0.6
0.04
Lighter:
Bic Mini
• Black
0.4
0.03
Stuff Sacks:
• REI Mesh for cook system
• SeaToSummit 13L Ultra-Sil for food
1.9
0.1
Total:
15.8oz
0.9lbs
Hydration System
I don't like Giardia.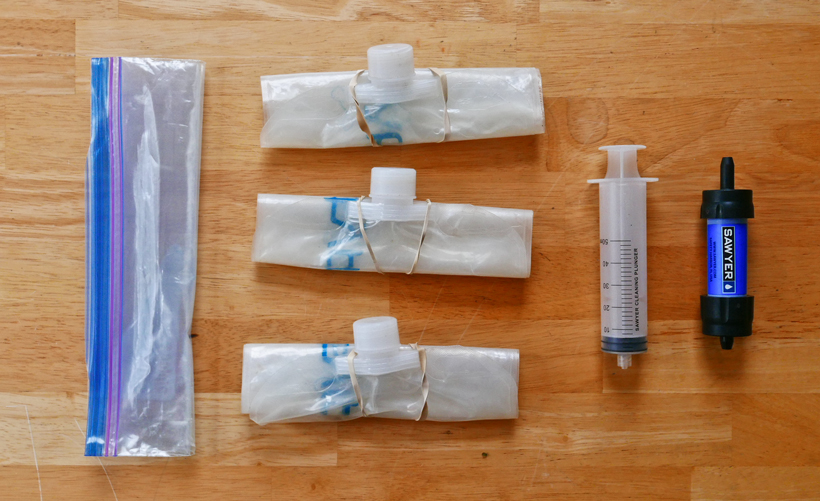 | | | | |
| --- | --- | --- | --- |
| Item | Specs | oz | lbs |
| Filtration: | Sawer Mini Filter + Plunger | 2.6 | 0.2 |
| Storage: | Platypus 2L Bottle X3 | 4.3 | 0.3 |
| Drinking Bottle: | SmartWater 1L Plastic Bottle | 1.0 | 0.06 |
| Stuff Sack: | Ziploc Plastic bag | 0.4 | 0.03 |
| Total: | | 7.3oz | 0.5lbs |
Clothing
Clothing Worn
Below is what I plan to wear on day 1. My goal is to limit how much I'm in contact with the sun altogether. This includes carrying a reflective umbrella, wearing a long sleeve shirt, and dawning lightweight gloves to protect my hands. I'm convinced the Asics GT-2000 4 TRAIL running shoes were actually modeled after my foot. That's how perfect they fit.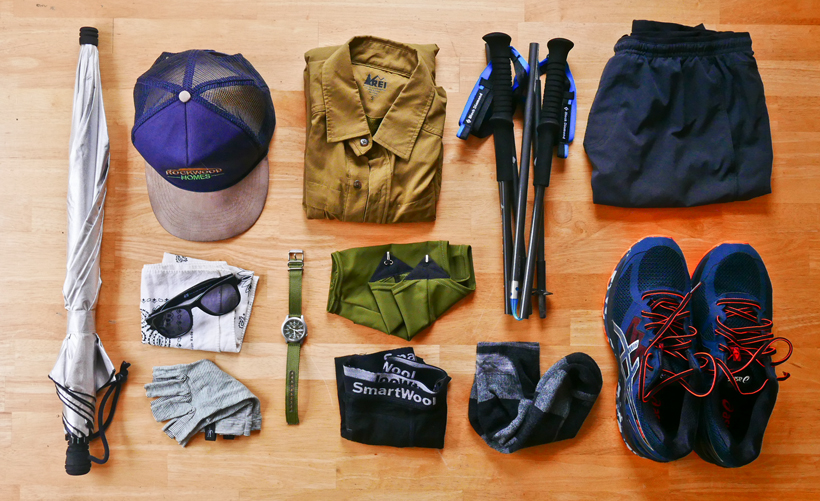 Item
Specs
oz
lbs
Hat:
Lucky Hiker Hat
2.6
0.2
Bandana:
Generic
1.1
0.07
Shirt:
REI Sahara Tech Long-Sleeve Shirt
9.1
0.6
Shorts:
Brooks 9" Running Shorts
6.7
0.4
Underwear:
NTS Micro 150 Pattern Boxer Brief
2.2
0.14
Socks:
Darn Tough Merino Wool 1/4 Cushion Hiking Sock
• L / Black
2.3
0.15
Sun Gloves:
SmartWool NTS Micro 150 Pattern
• Finger tips cut off.
0.7
0.04
Gators:
DirtyGirl Gators
• L / Olive
1
0.06
Shoes:
Asics GT-2000 4 TRAIL
26.8
1.7
Sunglasses:
Generic
1.1
0.07
Watch:
Seiko 5 Automatic – SNK805
2.1
0.13
Treking Poles:
Black Diamond – Distance Carbon Z
• 120cm
10.0
0.63
Total:
64.9oz
4.1lbs
Clothing Carried
In this bag contains some variable items. I may be able to shed the weight of my warm layer by shipping it ahead to Kennedy Meadows. Also not sure if I'll be needing my shell in the desert, but it's the item I'm more likely to keep of the two. Time will tell. Charley Harper is the man.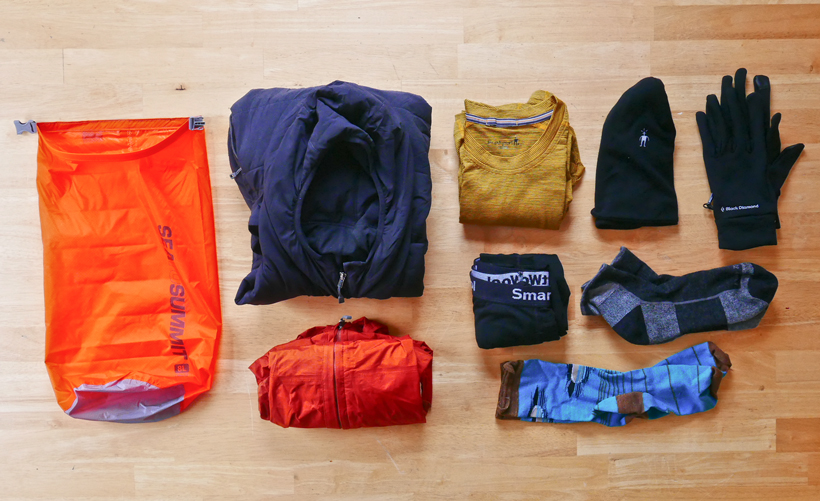 Item
Specs
oz
lbs
Warm Jacket:
Patagonia Nano Air Hoody
• M / Black
14.2
0.9
Shell:
Patagonia Torrentshell Jacket
• M / Rust
12.7
0.8
Top Baselayer:
NTS Micro 150 Pattern Crew
• M / Sunglow
6.2
0.4
Bottom Baselayer:
NTS Micro 150 Bottom
• M / Black
5.1
0.3
Beanie:
NTS Mid 250 Cuffed Beanie
• OS / Black
1.9
0.1
Gloves:
BlackDiamond LightWeight Glove
• L / Black
1.5
0.1
Hiking Socks No.2:
Darn Tough Merino Wool 1/4 Cushion Hiking Sock
• L / Black
2.4
0.2
Sleep Socks:
SmartWool Charley Harper – Mallard Duck
• L / Seafoam
1.6
0.1
Stuff Sack:
SeaToSummit 8L Ultra-Sil
1.1
0.1
Total:
46.5oz
2.9lbs
Small Things
Electronics
The Jackery power bank should give me 2.5-3 charges on my iPhone—an item I intend to use sparingly when not in town. This is part of the reason why I've chosen not to carry a solar charger. The Lumix is an awesome camera and fits perfectly into my hip pocket. Read: I don't have to take my bag off to take a picture. Very important. I'm bringing a Kindle along in hopes of catching up on some classics.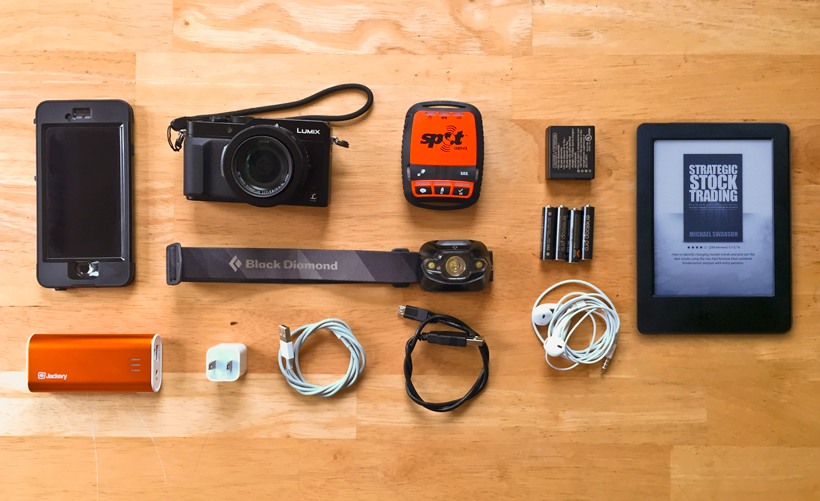 Item
Specs
oz
lbs
Phone:
iPhone 6
• Lifeproof Nuud Case
6.1
0.38
Camera:
Lumix LX100
• Light wrist strap
• 32gb SanDisk
• extra battery
16.2
1.01
Book:
Kindle 6"
6.8
0.42
Headlamp:
Black Diamond – Spot Headlamp
• Eneloop Pro AAA X3
3.3
0.20
GPS:
Spot Gen3
• Eneloop Pro AAA X4
4.8
0.30
Power Bank:
Jackery Bar
• 6000mAh/22.2Wh
5.5
0.34
Headphones:
Apple EarPods
0.4
0.02
Spare Batteries:
Eneloop Pro AAA X4

1.8
0.11
Cables/Adapters:
• Outlet to USB
• USB to Micro USB
• USB to Lightning
2.1
0.13
Total:
47.0oz
2.9lbs
Hygiene & Misc
This bag has been a lot of fun to reduce. I still think I might be carrying too much but I can always send items home later on the trail.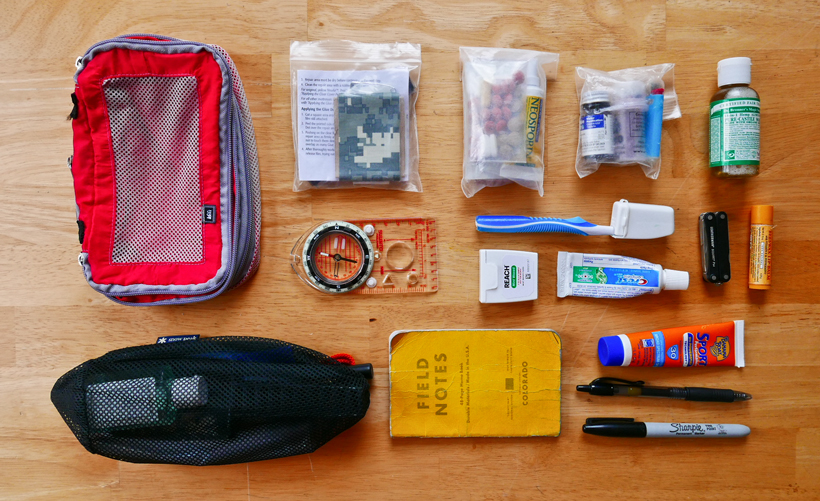 Item
Specs
oz
lbs
Sun Protection:
• SPF 30, 1 fl oz
• Burt's Bees Lip Balm
0.95
0.06
Soap:
Dr. Brooner's – Almond
• 2 fl oz
2.6
0.16
Dental:
• Toothbrush w/ protector
• Floss
• Toothpaste
1.45
0.09
First Aid:
• Neosporin
• Alcohol Prep Pads
• Pills (assorted)
• Band Aids
• Plastic Bag
2.0
0.13
Emergency:
• Compass
• Water Purification Tablets
• Spare Mini Bic Lighter
• Matches
• Plastic bag
3.7
0.23
Repair Kit:
• Velcro
• Duct Tape (custom roll)
• Patch kit for sleep pad and pillow
• Plastic bag
1.3
0.08
Pocket Knife:
Leatherman – Squirt PS4
2
0.12
Journal:
• Field Notes 48 Page Memo Book
• Gel Pen
• Sharpie
1.7
0.11
Wallet:
• Cards & Cash
• Long Distance Permit
• Clip
1.5
0.09
Maps:
2016 Halfmile Maps
• Section carried at a time
1.1
0.07
Resupply Spot List:
• One carried at a time
• Laminated
0.2
0.01
Storage:
• REI Stuff Sack for everything above
1.7
0.10
Poop Kit:
• Trowel
• Toilet Paper + Ziploc bag
• Hand Sanitizer
• Mesh Bag - REI
6.6
0.41
Sit Pad:
Therm-a-rest Z Seat
2.0
0.12
Total:
28.8oz
1.8lbs
Variable Items
The Sierras require the use of a bear canister. I'm sure to ditch the umbrella after the desert but may pick it up again in the rainy states. Passport for reentering the US from Canada. Head net and deet because misquotes be trippin'.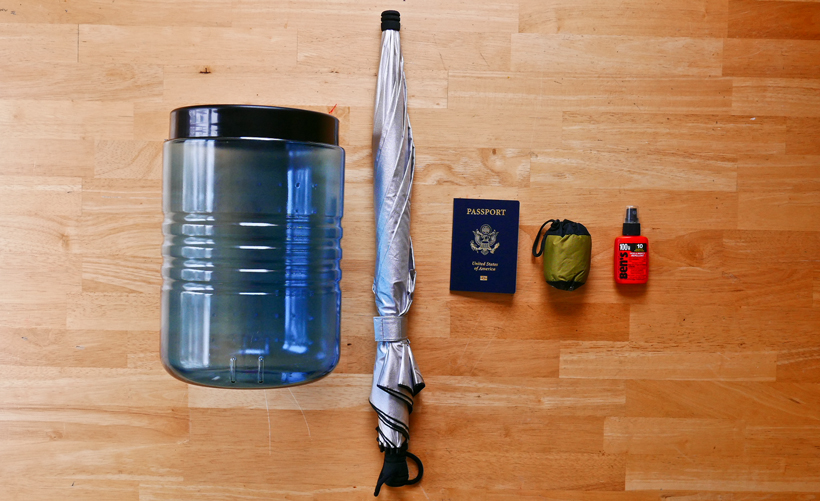 Item
Specs
oz
lbs
Passport:
• Used to reenter US from Canada
1.2
0.07
Solar Umbrella:
Gossamer Gear – Liteflex Chrome Umbrella
• Only carried in Desert. Possible WA and OR?
8.1
0.51
Bear Canister:
BV500
• Only used for Sierras
39.2
2.45
Mosquito Gear:
• SeaToSummit Insect Shield
• Ben's 100 Deet
1.8
0.11
Base Weight: 16.7lbs
Check out this gear in action with my most recent Past Hikes post: Paria Canyon.
Check out my support page here.
fin.